Volunteer Aynur shares her thoughts on the end of the summer:

"It's unbelievable that I am here already for almost 8 months and I'm writing about my summer memories! It's too hard to put all of them in some sentences because it was so intense and full of unforgettable moments, that I couldn't catch a breath and say: "Hey, don't pass so fast!"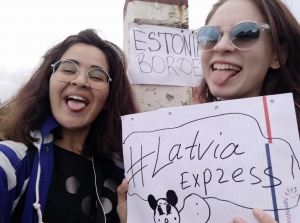 It is difficult to choose my brightest memories of all and share them with you. I had a three-month summer which I will never forget! I traveled around discovering Latvia, trying to see and feel the energy of every town and city. During almost all of my trips I tried hitchhiking, which gave me so many great emotions and interesting experience! By accepting this risk: having a ride with some people whom I have never met before, I had a great chance to see humanity at its best – through help, support and interest coming from these people, whom I have never met before and, most probably, will never meet again, but who were still very nice and kind to me. Sometimes I even didn't learn their name, but still a little conversation, a chat, which all together makes these moments to be a wonderful memory.
I had a chance to visit some other countries. It wasn't much but, I think, I managed to catch some special view of them. I was wildly dancing in the rain in Tūja and tried to walk a slackline (or, better said, learnt how to fall 😉 ) at Ķekava. In addition, I read a poem in Latvian language for our final performance of the Latvian language course.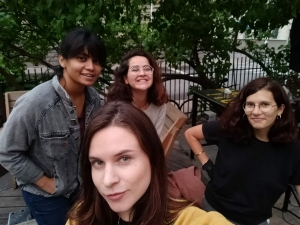 This summer I also felt myself being a part of a volunteering community here. We shared our traditions and learnt some words from each other's native languages, which are so different. Even though all of us are coming from different cultures and have different backgrounds, we still share the same values, energy and wishes to do more in our lives than just a regular job, but instead to work for a change our society and make it a better place for everyone. For the start we agreed to cooperate and organize some events and workshops together. But, of course, we have much bigger dreams!
This summer was so touching for me, sometimes very happy and sometimes very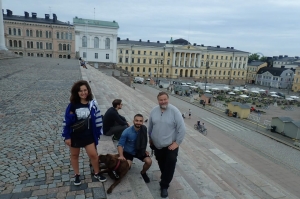 sad. I had to say "Goodbye!" to very many new friends-volunteers and many things. Despite that, I have learnt a lot about myself and realized how much I should have grown up and changed in these 3 last months! And, of course, I always hope to meet again all these dear to me people and share again some new great adventures and awesome memories together!