Our ESC volunteer @Anna Fomina is sharing her experience of the first 3 months of her project:
"Labdien! I am Anya and I am from Russia. Already for 3 months, I have been in Riga, Latvia at my ESC project in the Youth Studio "BaMbuss". What happened during this time, what difficulties did I encounter and didn't I regret my decision to go to the project?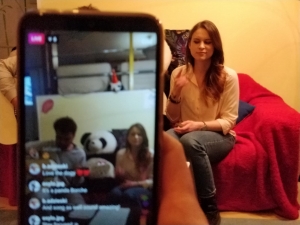 To begin with,the main responsibility of a volunteer in the framework of my project is organizing events and activities for young people, as well as maintaining social networks. In addition, office assistance in other projects of my host organization – Baltic Regional Fund. The first month was full of events: every day my co-volunteer from Azerbaijan, @Aynur, and me "fled" somewhere, did something, and daily met a lot of new people. We met with local activists and ESC volunteers from other cities, made plans for how to travel to each other and other countri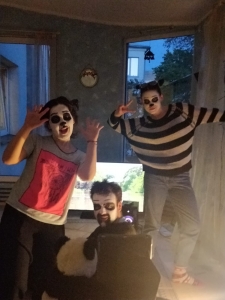 es, developed an actionplan for the next months – things were humming… Suddenly, everything was interrupted by a message about closing the borders and declaring a state of emergency due to pandemic in Latvia. The third volunteer of our studio from Switzerland (whose project began a month later than ours) entered the territory of Latvia the day before the border was closed. We were locked up in a volunteer house indefinitely. Events, of course, were postponed, so social networks became the main field of our work. We were struggling at first, but in the end, in my opinion, we succeeded in online events. We are still keeping music live streams on Instagram, Intercultural evening, online game evening, and other events.
Of course, one of the biggest disappointing moments of my experience is that I can`t travel around Europe as it was planned, but I am still hopeful for the best! One of the most positive moments is, for sure, activities that I perform here – I sing, create something new, and organize events. These are the things I was missing during my previous office-job. Initiatives of volunteers are highly welcomed, "BaMbuss" is a very nice platform to put into effect young people`s endeavors. And despite the specific situation the world faced we should stay positive, keep on going ahead and hope for the best.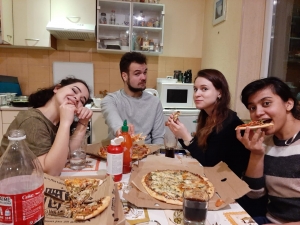 I think I already changed in these three months: I understood the importance of the time you are spending just with yourself 🙂 At the same time, you have to be more open-hearted and rely on people around you. And yes, this was my record high of not being home for such a long time. I was valuing my family when I was back in my home city, but being far-away from home makes me even more confident in these thoughts.
To sum up, I am not regretting the decision of coming to the project! And current world situation even makes my stay here exclusive. For those, who are thinking whether to go on volunteering experience or not – definitely take a risk and start living today!"