My mentor experience started at the beginning of September in Riga. It was a late afternoon when I met BaMbus' new volunteer just arrived from Switzerland – Maya. She was so cute with her red and wavy hair, the freckles on her nose and the typical shyness of a new-in-town girl, who doesn't have a clear idea yet of how her next months in the new country are going to be, what working tasks she'll need to complete, how her new home will look like, who she will find on her way. I didn't know much about Maya; I was just sure that I would have been her mentor for the six
months she would have spent in Latvia.
I can say Maya and I have established a friendship from the very first day. During our volunteermentor meetings we would hang out and talk about work and the achievements rather than the little obstacles in it; we would share stories about our families and friends at home, about our past adventures and the new plans.
Maya and I dedicated many meetings to discuss topics related to her project and the life as volunteer: her tasks and ideas for the organization, her feelings about the stuff she was experiencing and the expectations for the upcoming time. We implemented some activities aimed to help Maya to write the Youthpass, and to reflect on her learning process.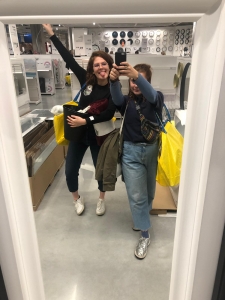 Already before meeting Maya I was feeling ready and positive for this new and exciting experience. I was still fresh from my EVS during which I myself used to have a great mentor – a person who would always help me out in difficult moments, as well as a friend I would go to grab a dinner with and talk about our cultures, our past stories and wishes for the future.
Now, after six months, I can definitely say my mentor experience was a very interesting and cool one; it represented somehow a link between my previous year as a volunteer and my life after it. It made me keep in touch with the new volunteers and relive those beautiful and unforgettable moments I used to have.
Mentoring for me means dedicating a tiny part of your time to help, even just by being able to listen to, someone who feels still a little bit insecure in a place which is not home yet; it's about motivating and supporting to achieve the set goals. I think it's an amazing possibility to discover new cultures, mentalities and traditions.
A big thanks goes to BaMbuss for choosing me as Maya's mentor and giving me the possibility to experience all of this.
Francesca