We are looking for volunteers that will join Baltic Regional fund this summer for 2 months in Riga, Latvia within the project of program Erasmus+!
The European voluntary service project "BRF Summer Volunteers"  will take place from July 6, 2018 until August 31, 2018. Within the framework of the project, 6 young people from Spain, Macedonia and Bulgaria (2 from each country ) will volunteer in the host organization Baltic Regional fund and its Youth Studio BaMbuss. The goal of the project is to organize short-term volunteering project, in which young people can develop their skills and abilities by participating and organizing various activities in the BRF Youth Studio "BaMbuss", youth centers, organizations and International youth day events in all Latvia. The  main activity of short-term voluntary work is to organize large-scale event "Back to School" at end of summer. The aim of the event "Back to school" is to provide local youngsters with a place and opportunity to develop their skills and competences by participating in different workshops and to celebrate the end of summer and the start of school.
By organizing activities will be promoted volunteering, its opportunities and relevance, the Erasmus + program and other opportunities available for young people. The project's mission is to help young people to acquire new knowledge, gain new competences and skills in order to expand their horizons, to become aware of their European citizenship, to develop digital and technological skills, to promote initiatives and entrepreneurship, to get to know different cultures by participating in various events and activities throughout Latvia.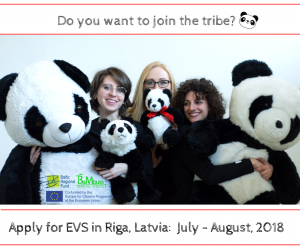 Volunteers are expected to continue their activities also after the project , to share their volunteering experience and provide information about opportunities offered by the Erasmus + program with young people in their country of residence.
BaMbuss volunteers are pandas. Do you want to join the tribe? 🐼  Fill the application  till April 30, 2018! Results will be sent to you in may, 2018!
In case of questions, you can contact projects@brfonds.lv.
Project "BRF Summer Volunteers" are organized by Baltic Regional fund (Latvia) in cooperation with  AC Amics de la Biblioteca de la Fonteta (Spain), Youth association Info front – Prilep (Macedonia)  and CVS BULGARIA SDRUZHENIE (Bulgaria), project is financed by EU program Erasmus+.
Learn more organisation and program here:
– BRF website:;  Facebook page of BRF.
– BaMbuss Youth Studio website: ; Facebook page of jsBaMbuss  and @Js_BaMbuss in Instagram.
– EU program Erasmus+